orange you glad
orange you glad picks up where apples to oranges left off; the orange has now been wrested from the apple and a new journey begins. orange you glad focuses on the Italian fairytale "The Three Citrons" to examine how ideas of desire use food to code race and gender within literature and popular culture.
a docent leads participants through the story, offering oranges at regular intervals. once the story concludes, the docent discusses the problematic narrative that reinforces a racist idea of desirability and the common trope of comparing people of color to foods and consumable items. we unveil the food pantone scale for skin color to apply food identifiers to white people who historically have not seen themselves as consumable in this way. the docent demonstrates the pantone scale on their own skin and the performance ends with a group consensus about which food item best matches the docent's skin.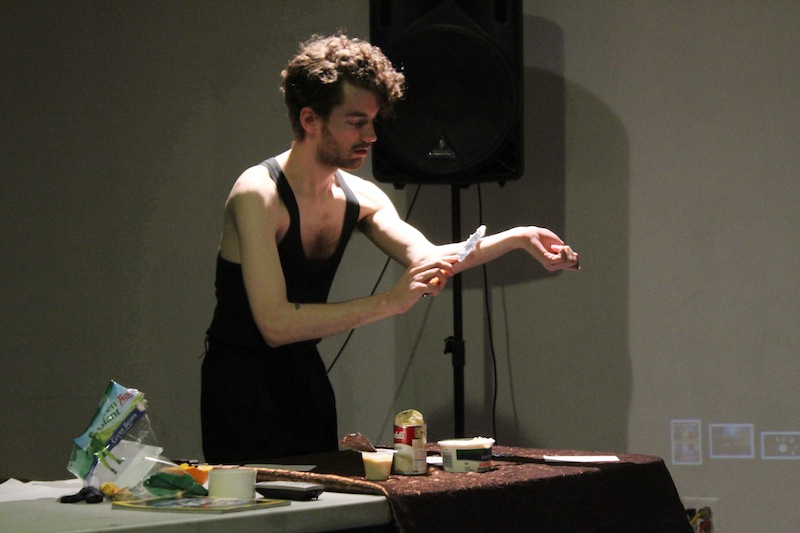 "oranges and the snow"
oranges and the snow was created in response to the small shares salon at Wedge Projects in December 2018. this piece explores tradition: first, the story of how oranges got into stockings in the first place; then, peeling apart the other traditions that have become folded into that one. the audience is given oranges with aphorisms attached by felt, and they are invited to share their aphorisms and oranges with other people. the piece culminates in learning a simple line dance to the song "Blood Oranges in the Snow" by Over the Rhine.
orange you glad began life as an exploration in the graduate performance seminar at School of the Art Institute of Chicago. in that initial presentation, the performance ended with the audience juicing oranges over the performer's body as they read a poem about oranges. orange you glad was modified and re-performed at Tritriangle Chicago for the Color + H symposium in June 2016 as an interactive lecture.
orange you glad was then selected as part of the Performing, Writing Symposium in Wellington, New Zealand in March 2017. This iteration became a participatory walk through the foothills of Mount Victoria, leading away from the ASPCA building and following along a series of signposts with scratchboard signs etched with two-letter country codes that were sites of citrus agricultural migration. the country codes have become an important part of the full filling project and return in "peach your heart out."